Our Activites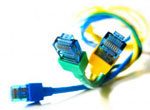 SeaQuest-Infotel is an integrator of telecommunications solutions. We provide turnkey delivery of comprehensive, integrated business management solutions that maintain a high level of communication with branch offices or customers.
SeaQuest-Infotel is an integrated management software publisher in the field of public finance, banking and maritime.
SeaQuest-Infotel is a distributor of a wide range of products of great renown and officially represents manufacturers established in the sub region:
IT equipment (Compaq, Hewlett Packard, Dell, Liebert and APC);
Telecommunications equipment (CISCO, Newbridge, 3com, Juniper) and markets computer networks involving video, sound, image and data.
SeaQuest-Infotel is an installer of conventional computer networks (3Com and Mikrotik) and telecommunications networks (fiber optic) or wireless (wireless).
The company offers a complete and integrated range of IT and telecommunications solutions to meet the increasingly demanding requirements of the African and international markets.